Sheila Martin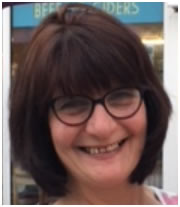 BSc(Open), PGCE, Dip OCR Level 7 SpLD,
APC and TPC (Patoss), AMBDA
Sheila is an independent Specialist Teacher and Assessor registered with the Professional Association of Teachers of Students with Specific Learning Difficulties and is an Associate Member of the British Dyslexia Association.
Sheila is also a member of DEKS (Dyslexia East Kent Support) and Dyslexia House Association, which are charities supporting local dyslexics and their families.
Sheila studied for a BSc, whilst working as a Learning Support Assistant for children with dyslexia and autism. On completion of her degree she undertook a Post Graduate Certificate in Education (Key Stages 2 and 3). Sheila worked as a primary school teacher for many years before undertaking specialist qualifications for assessing and teaching individuals with Specific Learning Difficulties.